Auxiliary equipment control
The auxiliary equipment control is an integral part of the system MOREVIA in order to provide all processes control. A large variety of controlling and controlled equipment is available.
The control is fulfilled by local controllers integrated in one network. This solution provides the efficient process control even in a case of connection loss with other controllers. It is also possible to use local operator panels for local equipment management.
MOREVIA control system application:
Pump control including automatic Start/Stop function. Frequency converter control and soft-start devices control.
Valve control. Start/Stop and soft-start options are possible.
Trawl control
PID-controllers
Compressor control
Boiler control
Sequential Start/Stop, restart sequence after black-out
Lubrication system control
Heating and cooling system control
Drinking water control
Compressed air control
Bilge control
Fuel system control
Ventilation control
Remote monitoring and control
The ballast control system is an integral part of MOREVIA system, and provides remote monitoring and control of pumps and valves from the bridge, Central Control Room or other place. The system state is displayed in graphic pictures on the Operator panels or monitors. One-touch control provides easy and fast control.
The main functions:
Level gauging in tanks.
Pump control.
Valve control.
Ballast control.
Heeling control.
Control of pressure, temperature, flow counter, etc.
Automatic functions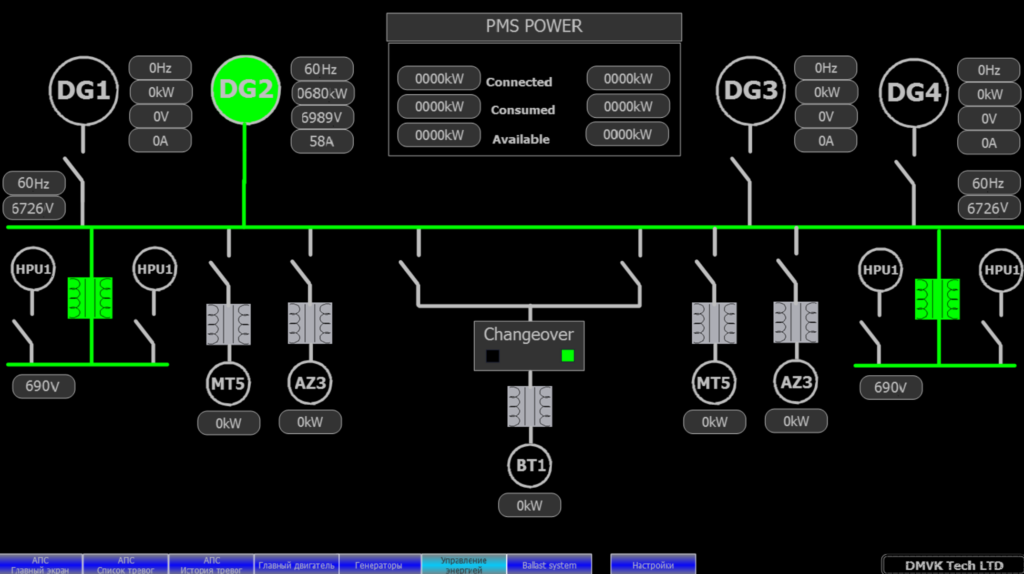 MOREVIA system can work with a large number of tank level gauging sensors, including hydrostatic, ultrasonic, microwave sensors. Additionally, there is an option of temperature, pressure and density measurement. The data is displayed in volume percent, centimeters, cubic meters. Constant monitoring of tank filling and emptying is provided. By using the integrated system, it is possible to connect tank filling level with the operation of additional equipment (for instance, turn off the pump or close the valve).
Precision measurement modules (14bit, of 16bits, if necessary) are always applied for level gauge. This guarantees that MOREVIA system does not make any measurement errors to the sensor reading. Data bus connection is also possible.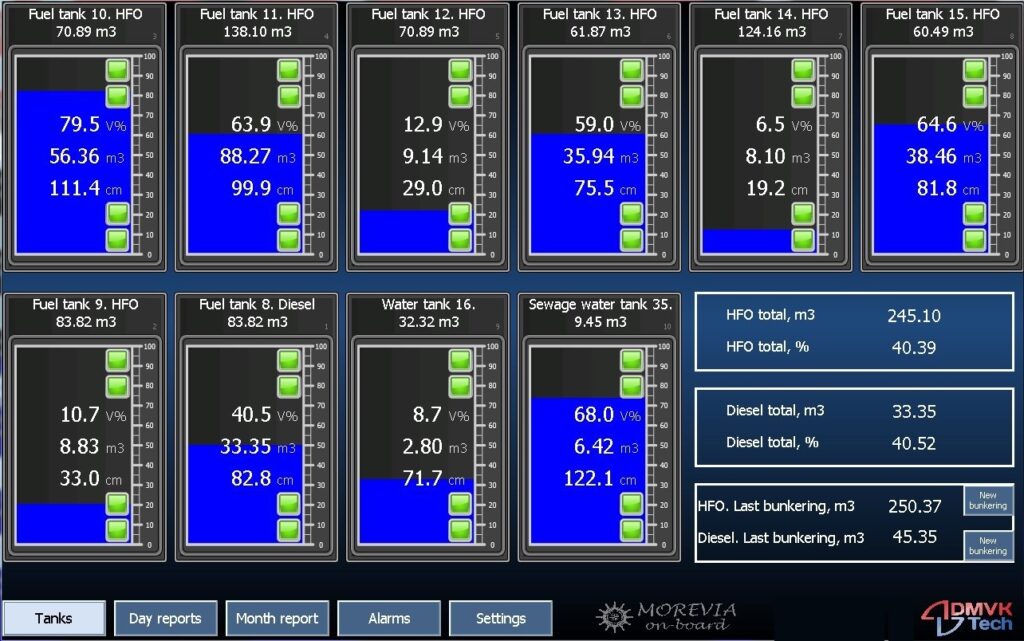 Sensor reading errors depend on the applied measurement technology. For instance, by applying microwave radars 2-3mm measurement accuracy can be achieved.
Level gauge system can be integrated into the general alarm system to warn on alarm level limits or can have a stand-alone alarm system.
Have any questions? We are always open to talk about new projects, creative opportunities and how we can help you.