Alarm and Monitoring System
Alarm system is the basic functionality of the system MOREVIA. Main purpose of the system is to control equipment operation, to inform the crew about any troubles, failures or necessary maintenance.
System logs all alarms and important events. System logs all alarms indicating time, confirmation and return to normal state.
If the alarm system is integrated with other vessel management and automation systems, the alarms are generated depending on the state of another system. For instance, when the main engine is stopped, oil pressure alarm is blocked.
Available features and options:
Alarm detection with visual and audible alarm indication.
Alarm groups, alarms history.
Alarm backup on local operator panels.
Alarm block both for separate alarms or alarm groups.
Colour graphic presentation.
Logging of alarms and events to file or printer.
Record of running hours and counters
Geographic coordinates record
Maintenance notification 
History logging and trend monitoring.
Complete power management.
MOREVIA-PMS is the complete power distribution and generator management system. The ship crew can monitor the equipment condition on board, on mnemonic schemes or graphics, watch history, power quantity spent in a specific time period.
The history and scales for electrical energy consumption allow the crew to turn off equipment unnecessary for the current moment but still consuming energy. Therefore, the Diesel Generators (DG) have less load, less fuel is spent and less CO emissions go to the atmosphere. In a case of several DGs cascade operation and energy consumption monitoring with the system MOREVIA-PMS, number of operation hours per each DG lowers as the system itself chooses the needed number of DGs operating simultaneously.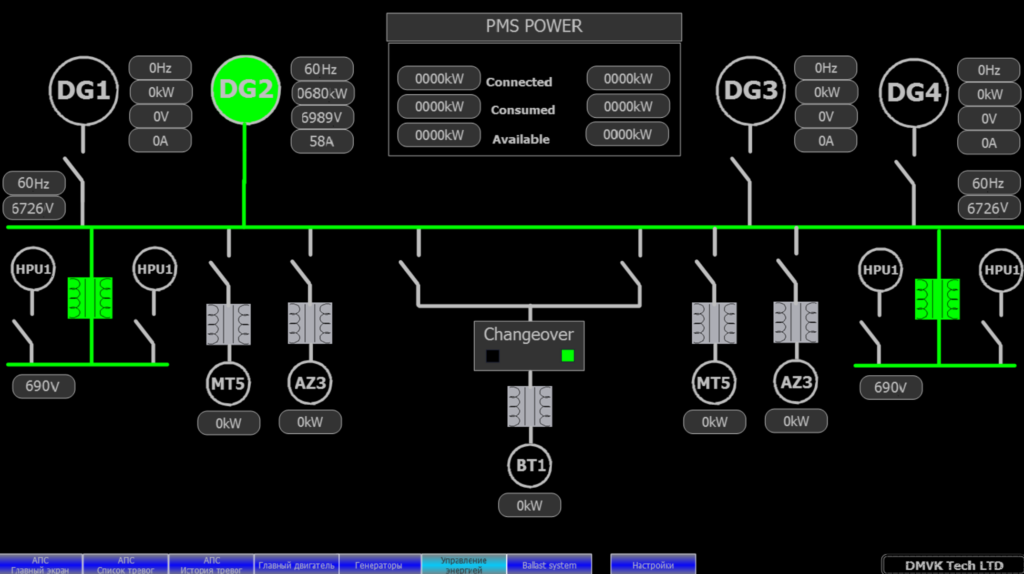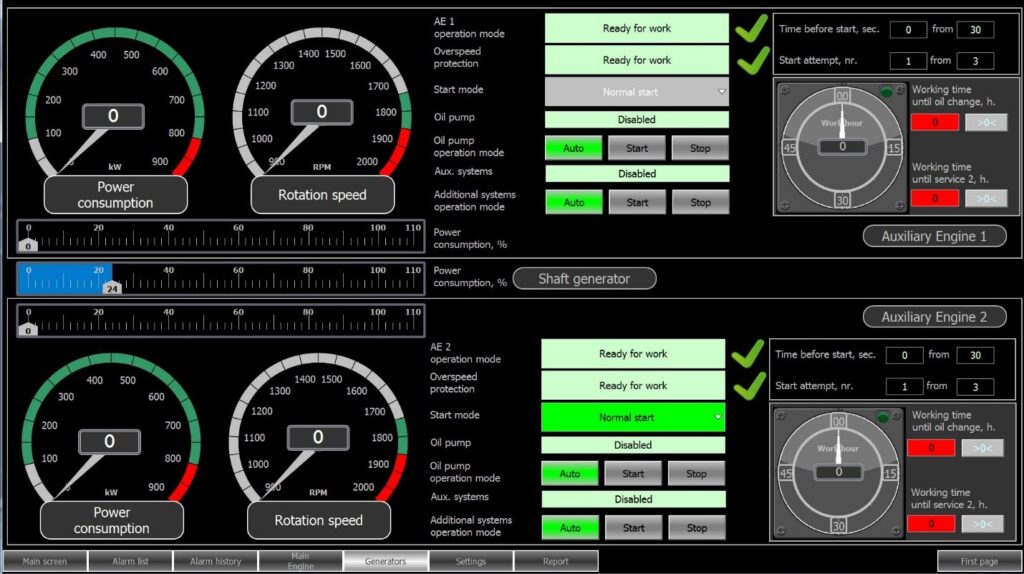 Main functions of the system MOREVIA-PMS:
Control of a single or several Diesel Generators with all necessary data displayed on the monitor (Voltage, frequency, Amperage, kW, cosF, temperatures, etc.).
Remote Start/Stop of DG in manual, semi-Auto and Auto operation mode.
Two and more DGs auto synchronizing .
Monitoring and control of Generator breakers.
Load control and DG cascade operation.
Switch DG cascade operation to Stand-by mode and resumption of operation with the loads increase.
Protection functions of the system MOREVIA-PMS:
Short-circuit protection.
Over-current protection.
Over-voltage protection.
Over- and under-frequency protection.
Overload protection.
Under-voltage protection.
Reactive power protection.
Control of the main engine, steering-apparatus and propulsion
MOREVIA system provides a large number of options on modernization of the main engine, steering-apparatus and propulsion control. The system provides monitored automatic Start/Stop of the Main Engine. The purpose of the system MOREVIA is to make the process easier for the ship crew and to provide the highest level of operation security. The operation security is provided by Safety controllers and Safety DI/DO (SIL3). With the Main Engine (ME) management, all important and additional parameters are controlled. 
Moreover, the controller provides maximum speed limit exceed protection. The system of the maximum speed limit exceed protection can be applied as a stand-alone system replacing the present one. The ME management system can be integrated with the propeller pitch control to monitor used power. Various operation modes are provided: for instance, preset power retain on a shaft that can be applied for icebreaker ships operating in difficult conditions, or maximum engine power control that is important with a shaft generator operation and large energy consumption.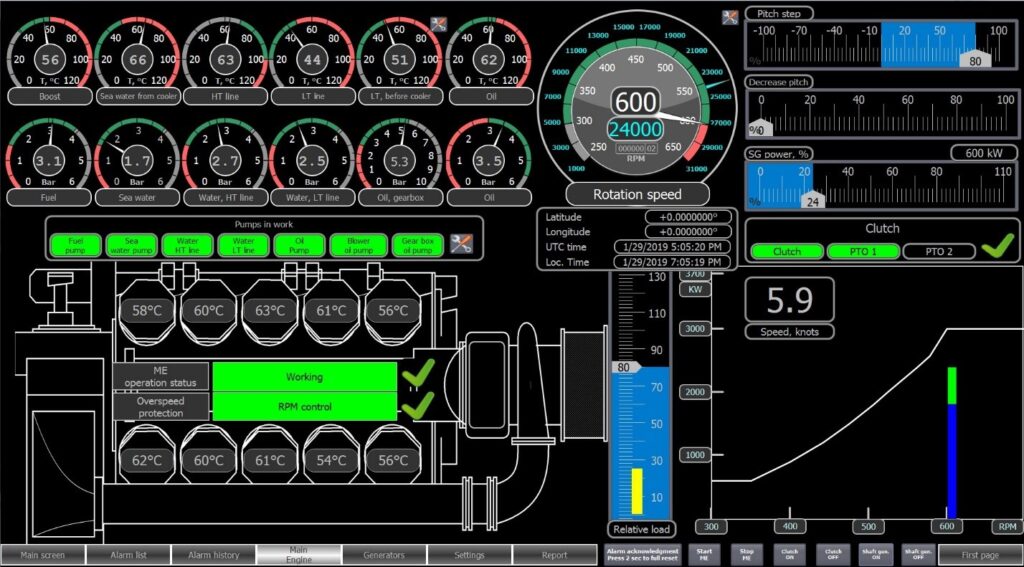 Have any questions? We are always open to talk about new projects, creative opportunities and how we can help you.